My Blog
Posts for: May, 2015
By Hidy Stavarache, DDS Family & Cosmetic Dentistry
May 29, 2015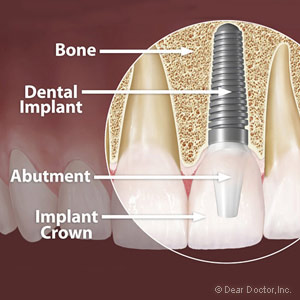 You're considering dental implants and you've done your homework: you know they're considered the best tooth replacements available prized for durability and life-likeness. But you do have one concern — you have a metal allergy and you're not sure how your body will react to the implant's titanium and other trace metals.
An allergy is the body's defensive response against any substance (living or non-living) perceived as a threat. Allergic reactions can range from a mild rash to rare instances of death due to multiple organ system shutdowns.
A person can become allergic to anything, including metals. An estimated 17% of women and 3% of men are allergic to nickel, while 1-3% of the general population to cobalt and chromium. While most allergic reactions occur in contact with consumer products (like jewelry) or metal-based manufacturing, some occur with metal medical devices or prosthetics, including certain cardiac stents and hip or knee replacements.
There are also rare cases of swelling or rashes in reaction to metal fillings, commonly known as dental amalgam. A mix of metals — mainly mercury with traces of silver, copper and tin — dental amalgam has been used for decades with the vast majority of patients experiencing no reactions. Further, amalgam has steadily declined in use in recent years as tooth-colored composite resins have become more popular.
Which brings us to dental implants: the vast majority are made of titanium alloy. Titanium is preferred in implants not only because it's biocompatible (it "gets along" well with the body's immune system), but also because it's osteophilic, having an affinity with living bone tissue that encourages bone growth around and attached to the titanium. Both of these qualities make titanium a rare trigger for allergies even for people with a known metal allergy.
Still, implant allergic reactions do occur, although in only 0.6% of all cases, or six out of a thousand patients. The best course, then, is to let us know about any metal allergies you may have (or other systemic conditions, for that matter) during our initial consultation for implants. Along with that and other information, we'll be better able to advise you on whether implants are right for you.
If you would like more information on the effects of metal allergies on dental implants, please contact us or schedule an appointment for a consultation. You can also learn more about this topic by reading the Dear Doctor magazine article "Metal Allergies to Dental Implants."
By Hidy Stavarache, DDS Family & Cosmetic Dentistry
May 11, 2015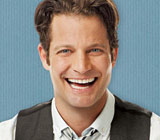 Perhaps you've seen Nate Berkus on The Oprah Winfrey Show or watched his television program, The Nate Berkus Show. You may even have read his best-selling book, Home Rules: Transform the Place You Live Into a Place You'll Love. Regardless of where or how you discovered Berkus, you will surely have noticed his dazzling smile.
Berkus recently opened up about the facts behind his trademark smile during an interview with Dear Doctor magazine. First off, his smile is totally natural, as he never wore braces or had any cosmetic work, including porcelain veneers. However, Berkus does give credit to his childhood dentist for the preventative healthcare he received as a young boy. "I'm grateful for having been given fluoride treatments and sealants as a child," he said. Nate also shared the important flossing advice he learned from his dentist that he still follows today: "Floss the ones you want to keep." Berkus went on to say that he feels, "healthy habits should start at a young age."
And we totally agree! For this reason we have put together the following list of facts and oral hygiene tips:
Over 50% of plaque accumulation occurs in the protected areas between teeth — a place that may be difficult or even impossible to reach with a toothbrush.
A thorough brushing may take up to two minutes at first, and it may feel awkward as you reach some places in your mouth.
Remember, more is NOT always better! Brushing or flossing too hard can be damaging to your teeth and gums. And never saw back and forth with your floss.
To learn more about oral hygiene, including brushing and flossing techniques, you can continue reading the Dear Doctor article "Oral Hygiene Behavior - Dental Health For Life." Or you can contact us today to schedule an appointment so that we can conduct a thorough examination, review your brushing and flossing techniques, and discuss any questions you have as well as treatment options. As needed, we will work with you to teach you the proper brushing and flossing techniques so that you feel confident before you leave our office. And to read the entire interview with Nate Berkus, please see the Dear Doctor article "Nate Berkus."