My Blog
Posts for tag: laser dentistry
By Hidy Stavarache, DDS Family & Cosmetic Dentistry
September 08, 2016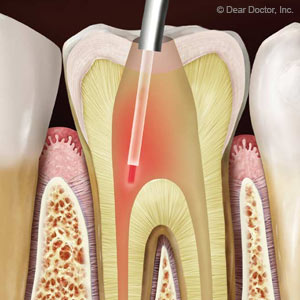 Root canal treatments are an essential part of dental care — countless teeth with deep decay would be lost each year without it. Now, this traditional dental care procedure is advancing to a new level of precision through lasers.
Root canal treatments have a simple goal: access a tooth's infected pulp and root canals, clean out the infected tissue and fill the empty pulp chamber and canals with a special filling. Once filled, the access is sealed and a porcelain crown later placed for additional protection against re-infection.
In the traditional procedure, we perform these steps manually with a dental drill and hand instruments. We may also need to remove a good portion of tooth structure, both healthy and infected tissue. A laser, on the other hand, is a highly focused beam of light with the ability to interact with healthy and infected tissues differently: destroying infected tissue while having no effect on nearby healthy tissue. The end result: we may be able to remove less healthy tissue with lasers than with the conventional procedure.
Lasers are also helpful with softening and precisely molding the filling material within each canal's particular shape. And, early reports seem to indicate a higher degree of comfort for patients (less drill noise and need for anesthesia), less bleeding and faster recovery times than the conventional approach.
But as a tool for root canal treatments, lasers do have a couple of disadvantages. While light travels in a straight line, root canals are rarely straight — conventional instruments with curved designs usually accommodate odd canal shapes better than a laser. Lasers can also raise temperatures within a tooth that can damage healthy tissue, both within the pulp and outward into the dentin.
Still, lasers for root canal treatments appear promising with some dentists using a combination of lasers and manual techniques to garner benefits from both approaches. While you won't see lasers replacing the traditional root canal treatment anytime soon, the future looks bright for more efficient ways to treat deep tooth decay.
If you would like more information on your options for root canal therapy, please contact us or schedule an appointment for a consultation.
By Hidy Stavarache, DDS Family & Cosmetic Dentistry
September 21, 2015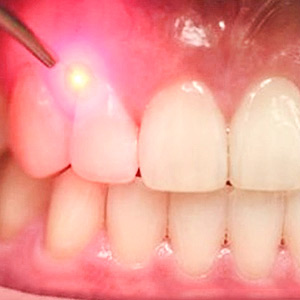 Although techniques for treating periodontal (gum) disease can vary, they all boil down to one objective: remove the bacterial plaque and calculus (hardened plaque deposits) that cause the infection. The initial treatment usually involves two techniques known as scaling and root planing.
Scaling uses hand instruments, ultrasonic equipment or a combination of both to manually remove plaque and calculus from the tooth and root surfaces. Root planing takes it a step further by minutely "shaving" infected material from the root surfaces. While more invasive techniques (including surgery) may be needed, scaling and root planing are the first line of treatment for any recent diagnosis of gum disease.
In recent years, an adaptation to these treatments has emerged using the Nd: YAG laser. The laser uses a particular crystal that's adaptable for many different types of surgery. In the case of gum disease, it's been found as effective as traditional methods for removing the infected linings of periodontal pockets. Voids created by detaching gum tissues as bone loss occurs, enlarge the small natural gap between the teeth and gums, which fill with pus and other infected matter. Removing the diseased lining from these pockets reduces bacteria below the gum line and speeds healing.
Periodontal laser therapy may have one advantage over traditional treatments: less tissue damage and swelling, and hence reduced post-treatment discomfort. While some research seems to confirm this, more controlled studies are needed to render a verdict on this claim.
Regardless of whether you undergo traditional scaling and root planing or a laser alternative, the aim is the same — to bring the disease under control by removing plaque and calculus and reestablishing good daily oral hygiene practices. Stopping gum disease as soon as possible will help ensure you'll have healthy teeth and gums for a long time.
If you would like more information on treatments for periodontal (gum) disease, please contact us or schedule an appointment for a consultation. You can also learn more about this topic by reading the Dear Doctor magazine article "Lasers versus Traditional Cleanings for Treating Gum Disease."
By Hidy Stavarache, DDS Family & Cosmetic Dentistry
April 24, 2015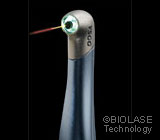 For years, lasers have revolutionized the medical industry and now they are beginning to do the same within the field of dentistry. However, anytime new technologies are introduced, people naturally will have questions. Here is a list of frequently asked questions (FAQs).
What is a laser?
Lasers are beams of light that are a single wavelength and color. Laser is an acronym derived from "Light Amplification by Stimulated Emission of Radiation."
How are they different from regular sunlight?
White light is made up of light with many wavelengths corresponding to the visible spectrum comprising the rainbow (red, orange, yellow, green, blue, indigo, and violet). Laser light consists of beams of a single color and hence a single wavelength of light, concentrated to a high energy level, which can penetrate living tissue.
How are they used in dentistry?
Dental laser usage typically falls into three categories: disease diagnosis; soft tissue procedures of the gums, lips and tongue; and hard tissue procedures of the bone or tooth enamel and dentin. Examples of the most common hard tissue treatments include the diagnosis and removal of tooth decay, while the most common soft tissue treatments include the removal of gum tissue as it relates to cosmetic dentistry and the treatment of gum disease.
Are they safe?
Absolutely! Before blazing a trail in the field of dentistry, lasers have been used for years in the medical field with research evidence and the FDA approving both their safety and efficacy. In fact, they are minimally invasive and can result in less tissue removal, less bleeding and less discomfort for patients after surgery. And what could be better than that?
Want to learn more?
To learn more about lasers and how they are used in dentistry, read the article "Lasers Shine A Light On Dentistry." And if you want to schedule an appointment, contact us today.