My Blog
Posts for tag: tmj disorders
By Hidy Stavarache, DDS Family & Cosmetic Dentistry
August 11, 2018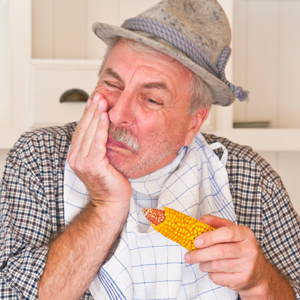 If you suffer from a temporomandibular ("jaw joint") pain disorder (TMD), you know any activity involving jaw movement can be uncomfortable. That includes eating.
But avoiding eating isn't an option—which means you may be attempting to minimize discomfort during flare-ups by choosing soft, processed foods that don't require a lot of jaw force. While this may certainly ease your TMD symptoms, you might also be cheating your health by eating foods not optimally nutritious.
It doesn't have to be a trade-off: with a few simple techniques you can still eat whole, natural foods while minimizing jaw joint pain. Here are 3 tips for making mealtime less stressful during TMD flare-ups.
Cut food into manageable bite sizes. Preparing your food beforehand will make a big difference in how much effort your jaws exert as you eat. Make sure all your food portions of vegetables, fruits or meats are cut or prepared into small, manageable bite sizes. It also helps to remove the tough outer skin of some fruits and vegetables or to mash other foods like potatoes or beans.
Use cooking liquids to soften food. For foods that aren't naturally moist, you can add liquids to soften them and make them easier to chew. Incorporate gravies, sauces or marinating liquids into your meal preparation to help soften tougher foods like poultry, meats or some vegetables.
Go easy with your chewing and biting motion. The strategy here is to minimize jaw movement and force as much as possible. While preparing your food as mentioned before will help a lot, how you bite and chew will also make a big difference. Limit your jaw opening to a comfortable degree, take small bites and chew slowly.
Managing a jaw joint disorder is an ongoing process. When practiced together with other treatments like therapy or medication, eating deliberately can help make life with TMD easier.
If you would like more information on coping with jaw joint disorder, please contact us or schedule an appointment for a consultation. You can also learn more about this topic by reading the Dear Doctor magazine article "What to Eat When TMJ Pain Flares Up."
By Hidy Stavarache, DDS Family & Cosmetic Dentistry
July 01, 2018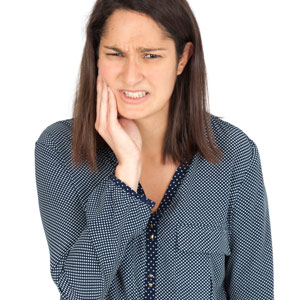 A blow to the face can result in a variety of injuries to your jaws and the temporomandibular joints (TMJs) that join the lower jaw to the skull. Only a thorough examination can determine the type and extent of the injury, and how to treat it.
The pain you feel in your jaw may indicate a direct injury, usually near the joint. This could mean the joint head (condyle) has dislocated, or moved out of the joint space. It could also mean you've fractured your lower jaw, most commonly just below the head of the joint.
Jaw pain can also indicate structures near the jaw and joint have been damaged and the jaw is indirectly affected. In some cases a damaged tooth may be radiating pain signals through the jaw (along similar nerve paths). More likely, trauma to soft tissue near the jaw joint has swelled with inflammation, putting pressure on the joint and temporarily stopping the condyle from seating fully in the joint space.
Any of these injuries can also cause painful muscle spasms, a defensive reaction from the body that causes muscles on either side of the jaw to limit movement preventing further damage (a natural splint, if you will). Thus, the pain may be compounded by a diminished range of motion when you try to chew or speak.
It's important, therefore, to determine the exact cause of pain and limited movement before commencing treatment. Spasms and inflammation are usually treated with muscle relaxant drugs and anti-inflammatory pain relievers. In the case of a dislocation, gentle manipulation can ease the condyle back into the joint space. A fracture would require more extensive treatment, including repositioning broken bone and immobilizing the jaw from movement to allow healing. In the most severe cases, surgical treatment may be necessary to internally immobilize the joint.
If you sustain an injury that results in jaw swelling and pain, you should see us without delay. The sooner we can diagnose and begin the proper treatment for your injury, the less likely you'll encounter long-term problems and the sooner you'll be pain and swelling free.
If you would like more information on the causes and treatment of jaw pain, please contact us or schedule an appointment for a consultation. You can also learn more about this topic by reading the Dear Doctor magazine article "Jaw Pain."